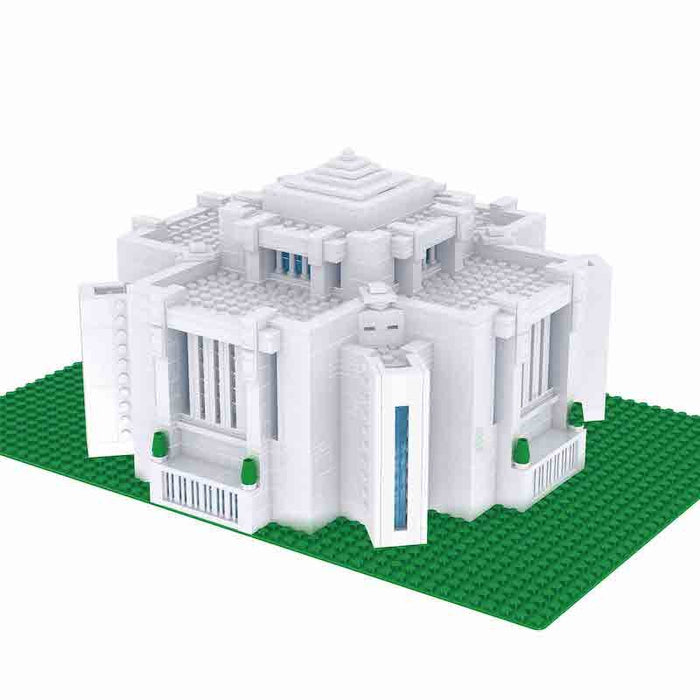 Out of Stock in the USA, but there is still some sets at the Cardston Book shop.
From Canada? Order this set from the Cardston Book shop by clicking here
A general rule of thumb for name brand bricks is 10 cents per piece. This model would cost $123.90.
Piece Count: 1,239 pieces
Recommended Age: 12+
Average Build Time: 4-6 hours
Size: 7" height, 10" length, 10" width. Size matches well with our other temple sets.

Bricks: Compatible with similar building block toys
Includes:
Custom Windows and Spires
High Resolution Instruction Manual Booklet

Cardston Temple Gallery
Click on the gallery link above to see real pictures of real people who have successfully built this model!
Download Instruction Manual
This downloadable instruction manual is free of charge. You don't have to purchase a Brick'Em Young to enjoy. All copyrights, trademarks, intellectual property and other information belong to Brick'Em Young. Hope you enjoy building this set!
Poll
Which temple model should we design next? You decided, cast your vote now for your favorite temple!
---
Watch this fun video and see how the Brick'Em Young Cardston Temple is built!
It was awesome. Lots of fun.
Excellent service
Fastest shipping ever. Wish you had Washington DC Temple.
I love these Temples!
I am putting it together right now and I love it!
I got them as family gifts for Christmas and everyone is very excited. Haven't put them together yet