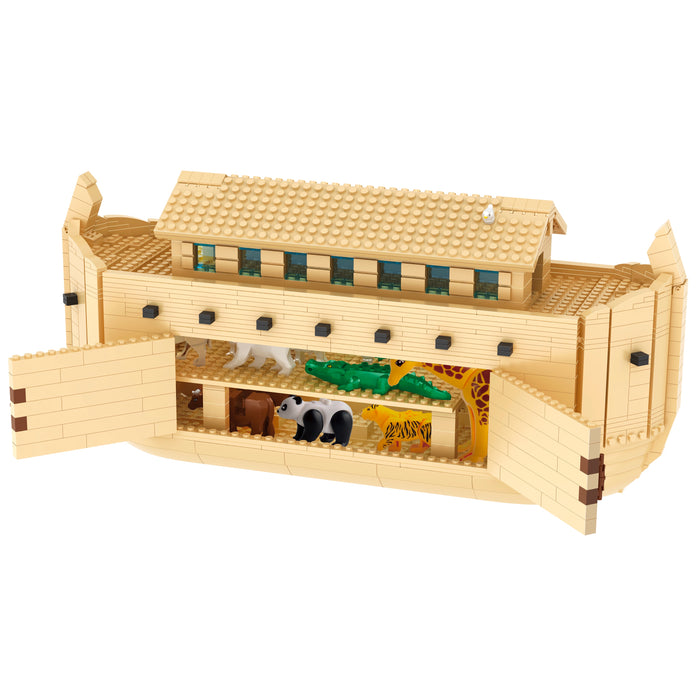 20% off thru Cyber Monday!
Piece Count: 976 pieces
Recommended Age: 12+
Average Build Time: 2-4 hours
Size: 12" height, 20" length, 7" width.

Bricks: Compatible with similar building block construction toys
Includes the following pieces:
2 Giraffes

2 Pandas

Pieces to build a rainbow
High resolution instruction manual
Noah's Ark Gallery
Click on the gallery link above to see real pictures of real people who have successfully built this model!
Download Instruction Manual
This downloadable instruction manual is free of charge. You don't have to purchase a Brick'Em Young to enjoy. All copyrights, trademarks, intellectual property and other information belong to Brick'Em Young. Hope you enjoy building this nativity!
Watch this fun video and see how the Nativity Bricks Noah's Ark is built!
Thank you for a biblical activity for our older children.
Noah's Ark
Everyone enjoyed working on the Ark!
I haven't it together yet!
I haven't opened it. I was waiting for grandchildren to visit, but now we are moving so it will be a while before we get to play with it.