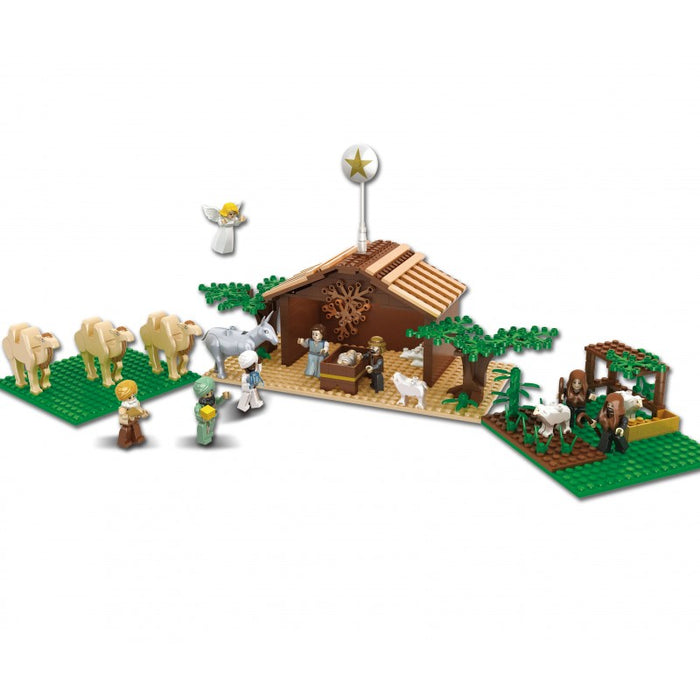 Piece Count: 315 pieces
Recommended Age: 9+
Average Build Time: 1 hour
Size: 8.5" height, 20" length, 5" width.

Bricks: Compatible with similar building block construction toys
Includes the following pieces:
3 Wisemen

2 Shepherds

3 Sheep

3 Camels

1 Donkey

Manger

Multiple Trees & Other Structures

High resolution instruction manual
Traditional Nativity Gallery
Click on the gallery link above to see real pictures of real people who have successfully built this nativity!
Download Instruction Manual
This downloadable instruction manual is free of charge. You don't have to purchase a Brick'Em Young to enjoy. All copyrights, trademarks, intellectual property and other information belong to Brick'Em Young. Hope you enjoy building this nativity!
---
Watch these fun videos to see how the Brick'Em Young Nativity Set is built!
Great toy for the kids.
They loved the Nativity Scene that they built. It was good to find a Jesus friendly toy for Christmas.
Traditional Nativity Set
The traditional nativity set was exceptionally detailed, and easy to build. All in all, it is an AMAZING addition to the Christmas setting.
Nativity Set Construction
My wife collects Nativity Sets but had never attempted or shown this particular set. We are both seniors. I told her I would build it this year just to see what it was like. Absolutely was entertained by it. Wife is very happy. Excellent product. Thank you!
Remembering.
I have given several as a gift to remind the receiver of the covenant they made in the temple. It has worked so far.