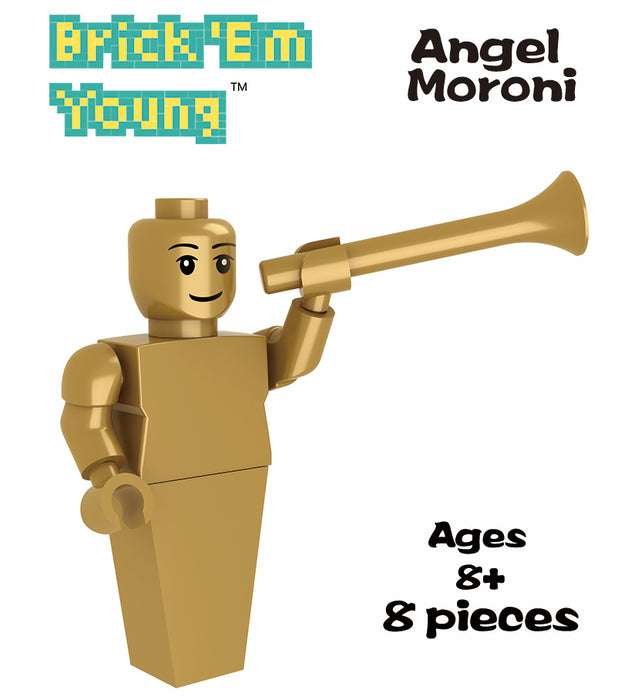 , 20% off!
Enjoy building your own temple models, but just need an Angel Moroni figurine?
Unlike our Classic Angel Moroni, this Angel Moroni is more like our other figurines!

8 pieces in total. 
Average build time 5 minutes
Recommended Age 8+
Received in great condition
The Angel was missing in Salt Lake Temple Brick-em Young set. Once they were notified, they shipped a replacement quickly and without hassle.
Thanks.
Too big
The Angel Moroni you sent me was not the same as the one I needed replaced. It was too big for the temple we put together.
Angel Moroni and Holiness to the Lord plaques
The angel Moroni was fine, it was as expected. What I didn;t like was that all 9 holiness to the Lord plaques I ordered (for Large SL Temple) were scratched. Very easy to easy multiple scratches all over them. Very disappointing!
What can I say?
I bought the Salt Lake Temple a while before I moved 1600 miles. I didn't assemble the temple because I knew I was moving. As soon as I got to my new apartment, I bought the display case. Then the "Holiness to the Lord" window was offered, and now the Moroni.
I'm almost moved in, and as soon as I find a place large enough for undisturbed assembly, I'll put it all together and give it pride-of-place in my living room.
I had been given the Nativity about five years ago, (just before another move!) so now, I'm ready!
Thanks for such great products!
PS: My parents were sealed in the Salt Lake Temple, and my dad's father helped to build it.
Doris