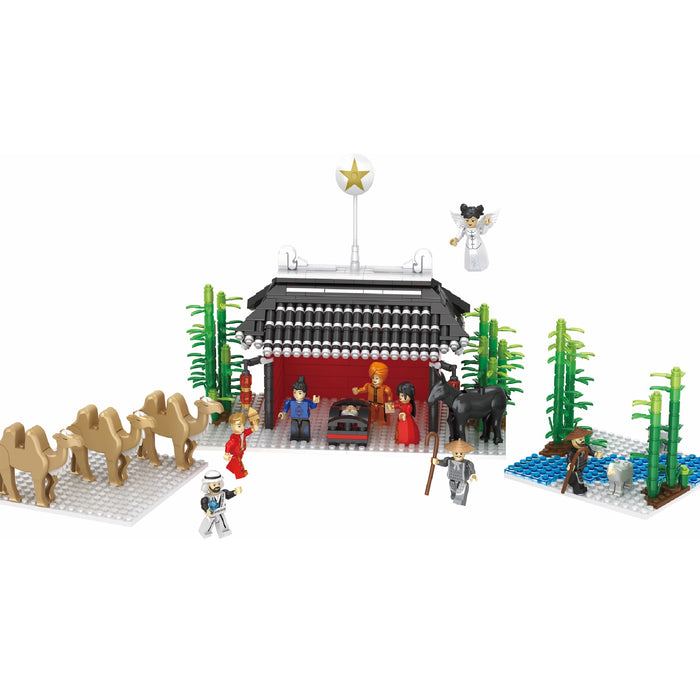 Piece Count: 917 pieces
Recommended Age: 12+
Average Build Time: 2 hours
Size: 8.5" height, 20" length, 5" width.

Bricks: Compatible with similar building block construction toys
Includes the following pieces:
3 Wisemen

2 Shepherds

2 Sheep

3 Camels

1 Donkey

Manger

Multiple Trees & Other Structures

High resolution instruction manual
Asian Nativity Gallery
Click on the gallery link above to see real pictures of real people who have successfully built this model!
Download Instruction Manual
This downloadable instruction manual is free of charge. You don't have to purchase a Brick'Em Young to enjoy. All copyrights, trademarks, intellectual property and other information belong to Brick'Em Young. Hope you enjoy building this nativity!
Watch this fun video and see how the Asian Nativity by Brick'Em Young is built!
Great service Fast Felivery
Ordered two nativities am a promotion and the process was easy with fast delivery. Excited to assemble these with grandchildren at Christmas.
Asian Nativity
This was a great Christmas present for our great grandchildren while we are on a mission to Japan.
Don't
Poor Instructions. I was going to purchase another kit but after putting this one together I have changed my mind.
Sorry to hear the difficultly you experienced with the instructions. We would be interested to hear more specifically which part of the instructions were hard to follow. The instructions for each model can be downloaded and viewed for free on our website. Please email us at info@brickemyoung.com. The difficulty level of our other sets is higher than this nativity.
Never received
A token attempt at finding my shipment then referred me to shop Amazon.
Dale, it's unfortunately that USPS lost this package despite having a tracking number. Prior to this review we had already issued you a FULL refund. If USPS finds them and delivers them to you'll get them for free. The reason we suggested using Amazon Prime is you requested this product be delivered by Tuesday and that would be the only option available to meet this deadline.