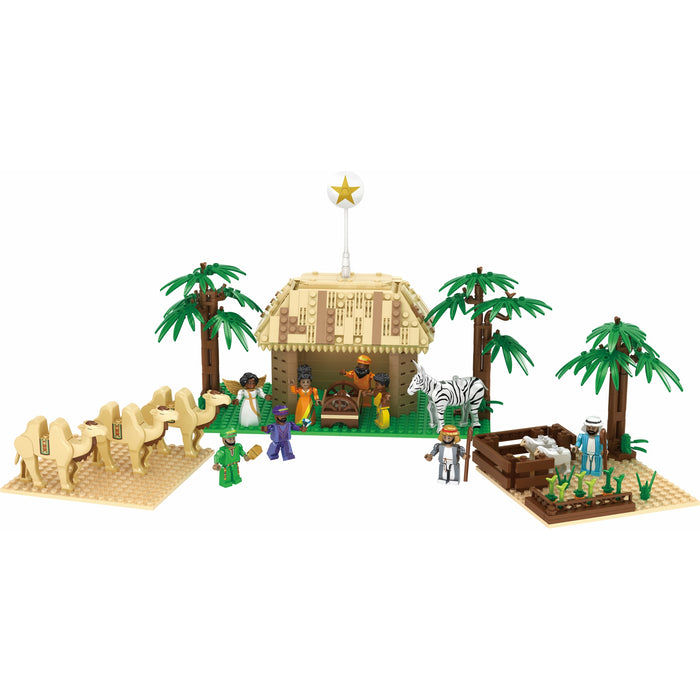 20% off, thru Cyber Monday! 
Piece Count: 603 pieces
Recommended Age: 12+
Average Build Time: 2 hours
Size: 8.5" height, 20" length, 5" width.

Bricks: Compatible with similar building block construction toys
Includes the following pieces:
3 Wisemen

2 Shepherds

2 Sheep

3 Camels

1 Zebra

Manger

Multiple Trees & Other Structures

High resolution instruction manual
African Nativity Gallery
Click on the gallery link above to see real pictures of real people who have successfully built this model!
Download Instruction Manual
This downloadable instruction manual is free of charge. You don't have to purchase a Brick'Em Young to enjoy. All copyrights, trademarks, intellectual property and other information belong to Brick'Em Young. Hope you enjoy building this nativity!
Watch this fun video and see how the African Nativity by Brick'Em Young is built!
It won't be put together until 2025. It's for our Grandson that is serving a mission in Africa!! We bought it for him for when he comes home!!
I loved the animals and how up close and personal they were.
Love Nativities!
How fun to be reminded that Jesus' positive influence is known worldwide!
Love the nativity
Fun details. Fun to assemble. Will enjoy this for years to come!